ADCAS TGD 01/20.08 Fire test standards and the Construction Products Regulation in relation to fire resisting ventilation and smoke control ductwork.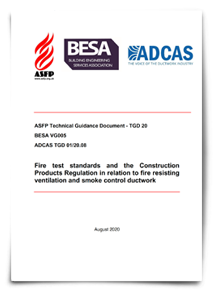 Following the implementation of construction products regulations (CPR) in July 2013, it is a legal requirement to comply with any harmonised European product standard and provide tested products covered by that standard. For fire resisting ventilation and smoke control duct sections, not all the required standards are published and this limits what can be supplied. This joint ADCAS, ASFP and BESA Guidance is to provides an understanding of what these limitations are, when they will change and what individual stakeholders can do in the intervening period.
ADCAS Guide to Ductwork Cleaning & Access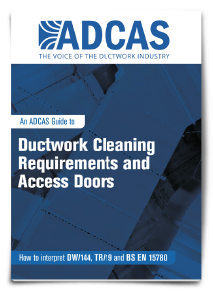 This ADCAS Guide explains the similarities and differences between BESA publications DW/144 (ductwork) and TR/19 (ventilation cleaning) and BS EN 15780 (ventilation cleaning) and to provide practical recommendations for the system designers, ductwork contractors and cleaning contractors to help them work with all three publications.
Fire Rated Ductwork Guidance Note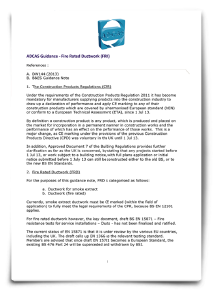 Under the requirements of the Construction Products Regulation 2011 it has become mandatory for manufacturers supplying products into the construction industry to draw up a declaration of performance and apply CE marking to any of their construction products which are covered by a harmonised European standard (hEN) or conform to a European Technical Assessment (ETA), since 1 July 2013.
FIRE DAMPER SELECTION CHART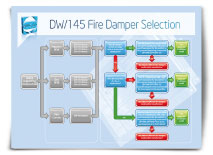 Following the publication of the B&ES's DW145 Ductwork specification, ADCAS has produced this simple selection chart. It is intended to help users make the correct choice of fire damper.
FLEXIBLE DUCTWORK REPORT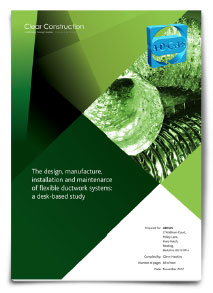 This report aims to provide a comprehensive overview of guidance relating to the design, manufacture, installation and maintenance of flexible ductwork in the built environment.
GET IN TOUCH