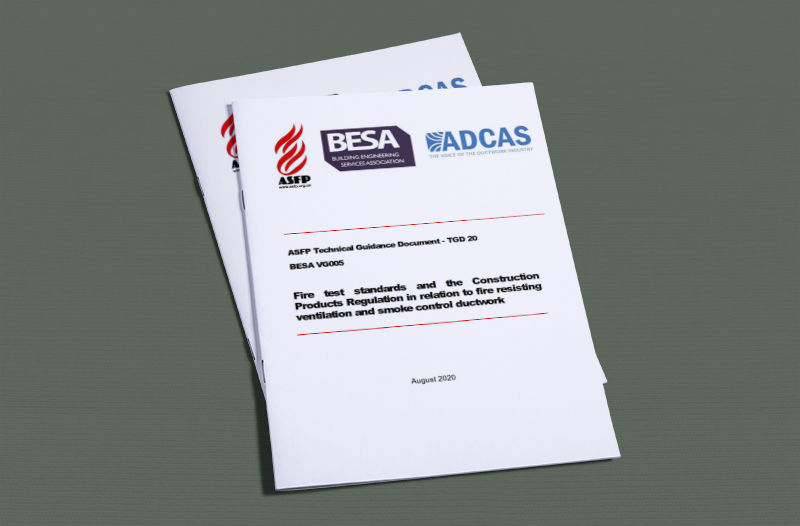 Joint publication clears up confusion over compliance
PRESS RELEASE 18th September 2020
Joint publication clears up confusion over compliance
A number of technical standards needed to ensure fire resistant and smoke control ventilation systems comply with safety regulations have not yet been published, leading to confusion in the ductwork marketplace.
In response, the Association of Ductwork Contractors and Allied Services (ADCAS), the Building Engineering Services Association (BESA) and the Association of Specialist Fire Protection (ASFP) have joined forces to produce guidance designed to help the industry deliver safe solutions in compliance with the Construction Products Regulation (CPR).
'Fire test standards and the CPR in relation to fire resisting ventilation and smoke control ductwork' is a joint publication that explains the problem and provides an industry-wide position on compliance.
Since July 2013, it has been a legal requirement under the CPR to comply with any harmonised European product standard and provide tested products covered by that standard, the three bodies explained.
The document lays out how the CPR applies to fire resisting ductwork, explains the relevant standards and the relationship between them as well as the current status of the EN standards and what this means to the industry. It provides harmonised guidance the market can use while standards are revised and includes a series of FAQ's. It concludes with a user-friendly reference table, setting out the status of all the relevant standards and their implications for current projects.
Malcolm Moss, ADCAS president, comments: "The issue of missing European Standards and classifications for fire resisting ductwork is a pressing one. The industry and indeed the notified bodies that provide the certification to allow CE marking of products have debated this topic and have not reached a consensus on what is possible for fire resisting ductwork. This jointly produced guidance document should go a long way in helping the industry to identify correct specifications, serving to clear up any potential confusion and, ultimately, improving levels of competency."
The full document is available for download at www.adcas.co.uk/publications.